Italy is a country that is home to a lot of history, especially Rome. A city worthy of consider as a destination on your next trip. You don't have to worry about lodging. Since, in the following lines we leave you the 5-star hotels in Rome Italy near the Spanish Steps.
Italy is not only iconically known for its fashion houses, it is also known for its tourist attractions that have repercussions around the world. Among which are the Spanish steps, come so you can meet them!
Rocco Forte Hotel De La Ville
Walking through the streets of Rome is a delight for many, and if you have already decided to undertake a trip to get to know this captivating city, you need a place to spend your stay. Rocco Forte Hotel De La Ville is the perfect 5-star hotel in Rome Italy for you.
In this sense, they are distinguished by their attentive and friendly staff, always ready to help you whenever you need it. They are praised for its high comfort beds. In addition, the decoration is a perfect mix of elegance and vintage. They include a flat screen TV, air conditioning and a beautiful view of the city.
It has three restaurants where you can go to taste the most delicious traditional Roman food, a spa, three bars and the perfect location that will allow you to easily reach all the most notable attractions of the city.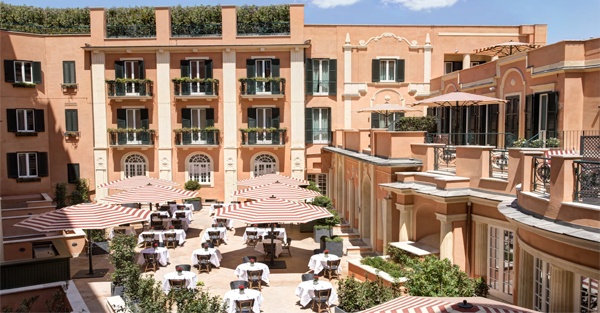 Hotel d'Inghilterra Rome – Starhotels Collection
If you want to see the physical representation of the word "elegance", you must go to this hotel, since, from its facade to its rooms, they perfectly describe this word. Because of the location, you don't have to worry, since it is located in the best part of all Rome.
You can go to this hotel with your family and even your pet without any inconvenience. Its rooms are completely smoke-free, have a minibar, air conditioning and a flat screen TV with access to all satellite channels.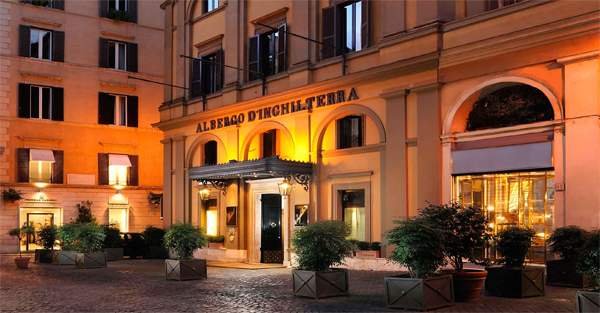 The First Dolce
With a contrast of environments, sculptures, works of art and color tones, a hotel with a magical touch is created, ideal for spending a few pleasant vacation in Italy. And it is that, not for nothing, it has a score of 9.5 by the public, which classifies it as one of the most ideal options to stay in Italy.
Its rooms are a delight, since they have a dreamy decoration and their furniture or elements will provide you with the right place to relax in your moments of rest. Among which are, private bathroom with bidetflat-screen TV, air conditioning, seating area, wardrobe and coffee maker.
Its services include free Wi-Fi, pet access and accommodation, a bar that serves the best drinks that you can find in the area, incredible views of the city from the terrace and much more
If what you are looking for is comfort, exclusivity and personalized attention, then 5 star hotels are for you. Be sure to opt for the 5 star hotels in Rome Italy near the Spanish Steps. Enjoy the best stay in this wonderful city and discover everything it has prepared to offer you.