Although getting a good place in another city where you spend a certain period of time is important, so is its price. Since, the amount of money to spend during your stay It should be within your budget. That is why we present a list of cheap hotels in Greensboro.
Quality Inn & Suites Airpark West
Located on the outskirts of Interstate 40, it is the ideal choice for students, foreigners, teachers and other people who want to be close to the university at any time of the study period.
It is quite a comfortable option. pet friendly, Provides high-speed internet, ideal for homework, video calling, and more. It has a fairly large meeting room and, in addition, each room has a small individual desk.
As extra accessories, it has a well equipped gym areahas an outdoor pool, parking area, private bathrooms, laundry service that works by paying with coins and dry cleaning for the most sensitive garments.
Wyndham Garden Greensboro
Ideal for those people who, in addition to take a study tripThey want to relax and have a good time. And it is that, this hotel is quite spacious and has a large number of amenities and services that make the stay of its guests more special.
It is a hotel that it is in a strategic point in the city, which facilitates access to various universities in the area. It has a fairly large parking area, where you can park your car for as long as you want for free.
In addition, it provides a direct connection with the main airport of the city and offers its guests daily newspaper completely free. As for their rooms, they are quite comfortable, they provide 24-hour WiFi service and you can enjoy a free breakfast at the hotel buffet every morning.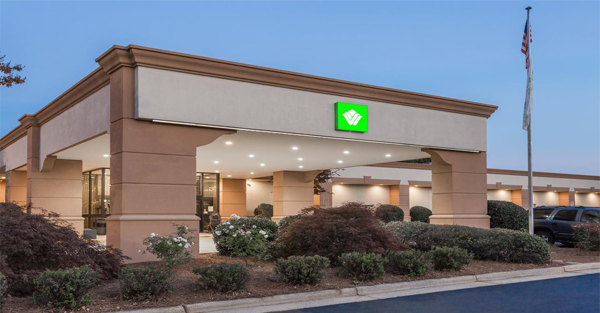 Holiday Inn Greensboro Coliseum, an IHG Hotel
Comfort is the best way to define this great hotel. Since, despite being aimed primarily at students, it has all the characteristics of a vacation hotel, in which we can get out of the routine for a few days, without the need to spend a lot of money on it.
Each of its rooms has a flat screen TV, refrigerator, desk, dining area, private bathroom, hair dryer, laundry service and much more. However, one of its most outstanding services is the dry cleaning serviceavailable to everyone who needs it.
Its facilities are adapted for allow access to people with disabilitiesit has a fairly large outdoor pool, you have access to a fairly complete gym and you can park your vehicle in its private parking lot for free during your stay at this incredible hotel.
If you have a strictly determined budget, we hope that these cheap hotels in Greensboro They will help you to make the best choice when choosing your place of stay in this city.