Whether for passion, business, or necessity, studying at a cooking school in Miami Florida is a great decision. This city, where thousands of cultures converge, has an enriched gastronomy worthy of studying in a prestigious institute. So in this article we have brought together three of the largest academies in the city to study cooking and be one step closer to fulfilling your dreams.
Where to find a cooking school in Miami Florida?
In Miami Florida you will find thousands of schools to study cooking, some with more prestige than others but the ideal is that you enroll in one that has the ability to project your career and open the doors to multiple job opportunities, take a look at this selection of schools that we have made for you.
Mariano Moreno Culinary Institute
If you want to study at a renowned institute in the city of Miami, without a doubt this is the one for you. It has technical programs, degrees and specialization in the culinary arts that will open the dead in the global gastronomic world. You don't have to worry about the language since your programs can be done in English or Spanish. And if the schedule is what worries you, you can choose between its three schedules: morning, afternoon or evening, from Monday to Friday.
The programs have a duration of 12 to 24 months and you can choose between: Certificate in Culinary Arts, Certificate in Pastry and Bakery, Degree in Pastry and Bakery or Degree in Culinary Arts. At the end of each of these programs, the school assigns you an internship job in one of the restaurants associated with the school so that you can carry out professional practices supervised by an instructor.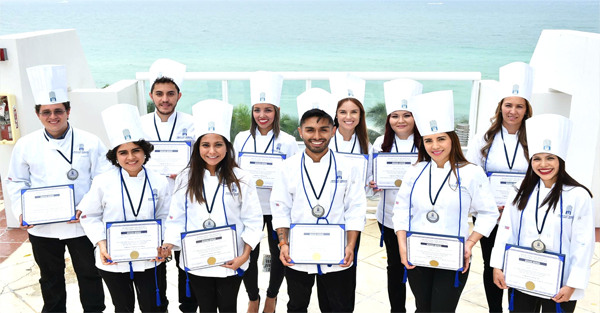 Miami Culinary Institute
It is a school associated with Miami Dade College, it has three study programs that will surely interest you. The first is Culinary Arts Management, the second is Culinary Arts Management Operations, and the third is the Chef Apprentice program. The first two have a duration of one year, while the last one has a duration of 12 weeks.
Each of these Miami Dade School of Culinary Arts programs trains the student with the basic techniques up to the advanced level. The study modalities are full time or part time, from Monday to Friday and Saturdays. If you are interested in knowing more about this cooking school in Miami Florida, you can find out more at https://www.mdc.edu/culinary/programs.aspx.
The Real Food Academy
It is a cooking school in Miami with a very particular concept, they teach organization of special events but they also include cooking classes for business parties. In these classes you learn to create personalized banquets for companies and private events from scratch. They instruct you on cooking techniques, organization, business, customer service and more.
It is a great program if you want to undertake in this area of ​​services because you acquire all the necessary knowledge to be successful in the area. Basically its methodology is based on cooking, service and organization of events. At the end you will know how to create and manage your own agency. In https://therealfoodacademy.com/cooking-parties-for-businesses/ you find out about this and much more.
These cooking school options in Miami Florida are excellent to get started in the gastronomic world, dare to start a new career.