florida is attractive for its incredible beachesthe variety of its culture and the diversity of its society, is a very striking focus for many tourists annually, which is why they always tend to look for hotels near the Fort Lauderdale airport with free airport shuttle service.
When we are travelers, the only thing we want is to spend as much time enjoying ourselves as we do traveling on roads just to get to our hotel, for this reason, the hotels with free shuttle service they are the best.
Fairfield Inn & Suites Fort Lauderdale Airport & Cruise Port
Let's start with a fairly modern option, do you think? This hotel is offers to pick up his guests at the airport at the time of arrival and also facilitates departure transportation when they have already completed their stay in the facilities, in order to make your visit to Florida something unique and unparalleled.
Entering the theme with the rooms, in them you will have the possibility of using a 32-inch flat screen TV where you can watch the best cable channels, you also have access to cable internet connection, a space to prepare your coffee in the morning with all the implements and a private bathroom.
In the hotel facilities there is a outdoor pool ideal for relaxation or have fun with the whole family, they also offer free parking to all their guests, not forgetting to mention their fabulous gym, which you can also access completely free of charge.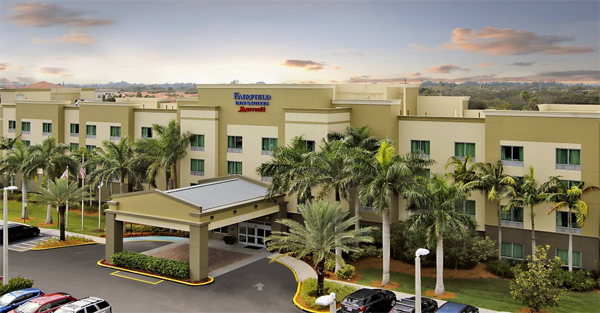 Courtyard by Marriott Fort Lauderdale Airport & Cruise Port
Although it is located 3 miles from Fort Lauderdale International Airport, the truth is that is the ideal alternative for those who wish to stay in a hotel whose concept is quite luxurious and with a tropical atmosphere. Not forgetting that it has a free shuttle service with connection to the airport.
Do you want to enjoy a majestic outdoor pool? The truth is that Florida always has an ideal environment to swim in them and the pool or swimming pool of this hotel is truly fascinatingyou will see that spending a whole day in it will be a delight.
The rooms? Incredible, we must admit. And it is that in addition to its contemporary decoration, these are equipped with the best artifacts and objects that will facilitate your stay.
Among which are a flat screen TV, living room, private bathroom, desk, refrigerator, hair dryer and ironing utensils to keep your clothes always in order.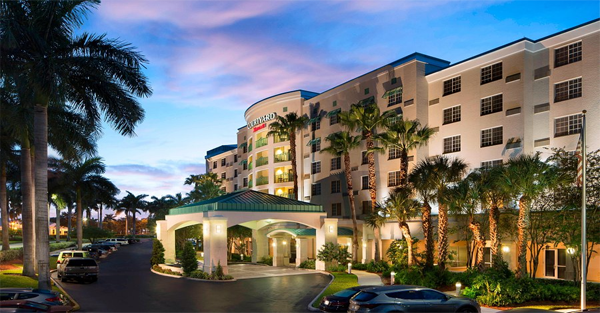 AC Hotel by Marriott Fort Lauderdale Airport
another hotel that can transfer you for free from the airport to its facilities and from its facilities to the airport, respectively. Everything, in order to make you feel comfortable and not worry about carrying your heavy bags all over the area just to get a taxi.
AC Hotel rooms they are a delight for any traveler. These have air conditioning, private bathroom with shower, desk, office area, bed, towels, bedding and much more.
With respect to the rest of its facilities, they have a business center to hold important meetings without much trouble, which come equipped with fax and photocopying section. Without forgetting its swimming pool, restaurant and bar where you will spend unforgettable moments.
We are sure that one of these options will be an incredible hosting opportunity for you, remember! you should always bet on the most comfortable alternative for youyour type of trip and your companions.