Ala Mar Motel, is a wonderful hotel located in Santa Barbara, California, USA. Ala Mar Motel is one of our recommended establishments in Hosteliest.com in Santa Barbara, California, USA .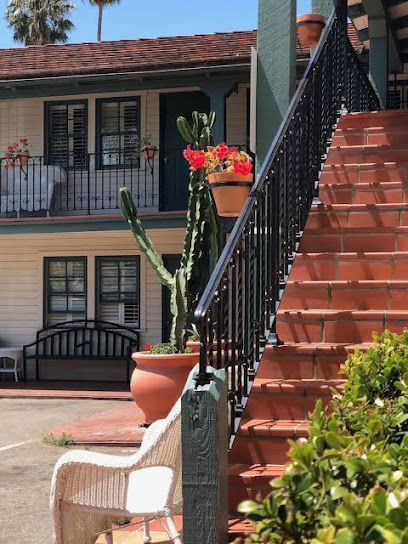 Ala Mar Motel, Santa Barbara, California, USA
Location: How to get to Ala Mar Motel?
Information and details about Ala Mar Motel in Santa Barbara, California, USA
Across the street from the beach, this low-rise, mission-style motel is an 8-minute walk from Stearns Wharf and 3 miles from Mission Santa Barbara., , Accessed by exterior corridors, the charming, colorful rooms feature Mexican tile, sloped or exposed-beam ceilings, and rounded doorways, plus free Wi-Fi, ceiling fans and cable TV. Upgraded ocean-view rooms offer sitting areas, Jacuzzis and/or fireplaces., , Amenities include complimentary continental breakfast and on-site parking. There's also a sundeck with umbrella-shaded tables overlooking the beach. – – is part of our Hotels in California directory.
Rating: according to users 3.3 out of 5.
Ala Mar Motel has a total of 208 Reviews.
Address: 102 W Cabrillo Blvd, Santa Barbara, CA 93101, United States
City: Santa Barbara, California, USA
Country: US
Email address: [email protected]
Phone: +1 805-962-9208
Website: alamarmotel.com
Reviews and Ratings about Ala Mar Motel
This hotel has no reviews.
Opening hours
This hotel has not indicated its opening hours.
Related hotels:
[email protected]
;;;https://goo.gl/maps/TQYzFEx3S4pnqxfH6;"";http://lh5.googleusercontent.com/proxy/53wAa86Hc6-fujMBtl3unmt3DPzQuWrnHdN0rOOZXYliHZZwYIIzkDBOseMsG80iEagcJQhFgan_U0nbOwaTxUAVIHXsZS4Hix3rXtnpsocBZI_LWvRWgISb8TqsGL4cx2G-ufFax-812XTKR0Hx1RA0ap5g4g=w408-h544-k-no", "postalCode": "", "addressCountry": "US" }, "geo": { "@type": "GeoCoordinates", "latitude": , "longitude": } } { "@context": "https://schema.org/", "@type": "CreativeWorkSeries", "name": "Ala Mar Motel", "aggregateRating": { "@type": "AggregateRating", "ratingValue": "[3.3]", "bestRating": "[5]", "ratingCount": "[208]" } }
Suggestions: