Arroyo Vista Inn, is a beautiful hotel located in South Pasadena, California, USA. Arroyo Vista Inn is one of our recommended establishments in Hosteliest.com in South Pasadena, California, USA .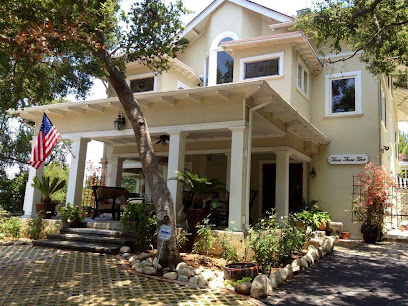 Arroyo Vista Inn, South Pasadena, California, USA
Location: How to get to Arroyo Vista Inn?
Information and details about Arroyo Vista Inn in South Pasadena, California, USA
Built in 1910 and set in hills overlooking the Arroyo Seco seasonal river, this chic B&B in a craftsman-style home is less than 1 mile from the Arroyo Seco Golf Course and 4.5 miles from Interstate 5., , The warm rooms feature private bathrooms with designer toiletries, and beds with luxury linens. All present free Wi-Fi, cable TV and iPod docks. Individual features include balconies, 4-poster beds, designer furnishings and free-standing or whirlpool tubs., , There's gourmet breakfast, plus complimentary parking, and afternoon wine and tea. An antiques-filled lounge and covered porches are also available for guest use. – – is part of our Hotels in California directory.
Rating: according to users 4.3 out of 5.
Arroyo Vista Inn has a total of 87 Reviews.
Address: 335 Monterey Rd, South Pasadena, CA 91030, United States
City: South Pasadena, California, USA
Country: US
Email address: [email protected]
Phone: +1 323-478-7300
Website: arroyovistainn.com
Reviews and Ratings about Arroyo Vista Inn
This hotel has no reviews.
Opening hours
This hotel has not indicated its opening hours.
Related hotels:
[email protected]
;34.1108585;-118.1684071;https://goo.gl/maps/FEMsBCPuka4Lme4M8;"";https://lh5.googleusercontent.com/p/AF1QipM6k_0SbWeOsZ9uDrHxT4XhfOxE8hRpVMNW1eTH=w408-h306-k-no", "postalCode": "", "addressCountry": "US" }, "geo": { "@type": "GeoCoordinates", "latitude": 34.1108585, "longitude": -118.1684071 } } { "@context": "https://schema.org/", "@type": "CreativeWorkSeries", "name": "Arroyo Vista Inn", "aggregateRating": { "@type": "AggregateRating", "ratingValue": "[4.3]", "bestRating": "[5]", "ratingCount": "[87]" } }
Suggestions: