Heidelberg Inn, is a wonderful hotel located in June Lake, California, USA. Heidelberg Inn is one of our recommended establishments in Hosteliest.com in June Lake, California, USA .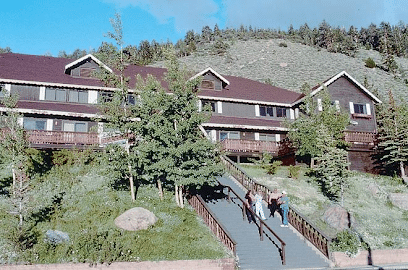 [post_relacionado id="20142″]
Heidelberg Inn, June Lake, California, USA
Location: How to get to Heidelberg Inn?
Information and details about Heidelberg Inn in June Lake, California, USA
With views of the Sierra Nevada mountains, this modest, Bavarian-influenced resort is 13 minutes' walk from June Lake and a mile from the June Mountain Ski Area., , Featuring kitchens or kitchenettes, the homey 1- and 2-bedroom condos offer free Wi-Fi and cable TV, plus living rooms with pull-out sofas. Some have balconies., , Amenities include a pair of hot tubs, a sauna and a rustic lobby sitting area with a brick fireplace. There's also ski storage, and a deck with barbecue grills and picnic tables. Bike rentals and guest laundry facilities are available. Minimum-stay rules may apply. – – is part of our Hotels in California directory.
Rating: according to users 4.6 out of 5.
Heidelberg Inn has a total of 128 Reviews.
Address: 85 Lakeview Dr, June Lake, CA 93529, United States
City: June Lake, California, USA
Country: US
Email address: [email protected]
Phone: +1 760-648-7781
Website: extraholidays.com
Reviews and Ratings about Heidelberg Inn
This hotel has no reviews.
Opening hours
This hotel has not indicated its opening hours.
Related hotels:
[email protected]
;37.7797056;-119.0749484;https://goo.gl/maps/3MKRCxg7aeMte8o98;"";https://lh5.googleusercontent.com/p/AF1QipPlLT7lefP2HoVO32epY3jvvPPGRL-nZzFmu12W=w408-h270-k-no", "postalCode": "", "addressCountry": "US" }, "geo": { "@type": "GeoCoordinates", "latitude": 37.7797056, "longitude": -119.0749484 } } { "@context": "https://schema.org/", "@type": "CreativeWorkSeries", "name": "Heidelberg Inn", "aggregateRating": { "@type": "AggregateRating", "ratingValue": "[4.6]", "bestRating": "[5]", "ratingCount": "[128]" } }
Suggestions: