Hyatt Place Vacaville, is a wonderful hotel located in Vacaville, California, USA. Hyatt Place Vacaville is one of our recommended establishments in Hosteliest.com in Vacaville, California, USA .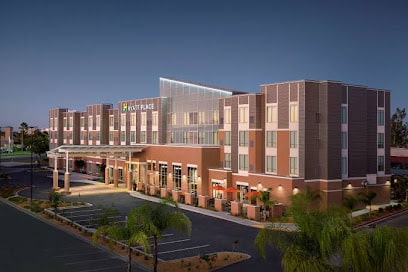 Hyatt Place Vacaville, Vacaville, California, USA
Location: How to get to Hyatt Place Vacaville?
Information and details about Hyatt Place Vacaville in Vacaville, California, USA
This relaxed hotel is 1 mile from Interstate 80, 2 miles from the Center for Freedom & Flight, and 4 miles from local history exhibits at the Vacaville Museum., , Straightforward rooms feature flat-screen TVs and free Wi-Fi, as well as minifridges, coffeemakers and sofabeds. Suites add living areas and kitchenettes., , Parking is complimentary. Other amenities include an outdoor pool, a fitness center and a bar, plus a 24/7 market. A breakfast buffet is also available. – – is part of our Hotels in California directory.
Rating: according to users 4.5 out of 5.
Hyatt Place Vacaville has a total of 214 Reviews.
Address: 610 Orange Dr, Vacaville, CA 95687, United States
City: Vacaville, California, USA
Country: US
Email address: –
Phone: +1 707-469-2323
Website: hyatt.com
Reviews and Ratings about Hyatt Place Vacaville
This hotel has no reviews.
Opening hours
This hotel has not indicated its opening hours.
Related hotels:
{ "@context": "https://schema.org", "@type": "Hotel", "name": "Hyatt Place Vacaville", "image": "http://lh4.googleusercontent.com/proxy/HF_mC0klsWQ31UK3xiQnWqwHMynTtWAb8k530GOf9kxlVYBkRI4cwQsU6cPvnZCZ0ZYk3YLPDOKoPiEB_QNYK9tqQPT4OOaQpcSWyA-7Y9HcH7eldXitv88cAY_ybG1jKHoRWTMMf5gLQtmCARItEQ4t48baGqQ=w408-h272-k-no", "@id": "", "url": "https://hosteliest.com/hyatt-place-vacaville-california/", "telephone": "+1 707-469-2323", "address": { "@type": "PostalAddress", "streetAddress": "610 Orange Dr, Vacaville, CA 95687, United States", "addressLocality": "Hyatt Place Vacaville;hyatt-place-vacaville-california;Hotels in California;hotel-hidden-valley-california;travelodge-by-wyndham-bakersfield-california;aurora-rv-park-california;eureka-inn-trademark-by-wyndham-california;kenwood-inn-spa-california;Hotel;4.5;214;This hotel has no reviews.;This hotel has not indicated its opening hours.;This relaxed hotel is 1 mile from Interstate 80, 2 miles from the Center for Freedom & Flight, and 4 miles from local history exhibits at the Vacaville Museum., , Straightforward rooms feature flat-screen TVs and free Wi-Fi, as well as minifridges, coffeemakers and sofabeds. Suites add living areas and kitchenettes., , Parking is complimentary. Other amenities include an outdoor pool, a fitness center and a bar, plus a 24/7 market. A breakfast buffet is also available.;610 Orange Dr, Vacaville, CA 95687, United States;Vacaville, California, USA;hyatt.com;+1 707-469-2323;-;;;https://goo.gl/maps/tz1SyTjvk1zn8bcd9;"";http://lh4.googleusercontent.com/proxy/HF_mC0klsWQ31UK3xiQnWqwHMynTtWAb8k530GOf9kxlVYBkRI4cwQsU6cPvnZCZ0ZYk3YLPDOKoPiEB_QNYK9tqQPT4OOaQpcSWyA-7Y9HcH7eldXitv88cAY_ybG1jKHoRWTMMf5gLQtmCARItEQ4t48baGqQ=w408-h272-k-no", "postalCode": "", "addressCountry": "US" }, "geo": { "@type": "GeoCoordinates", "latitude": , "longitude": } } { "@context": "https://schema.org/", "@type": "CreativeWorkSeries", "name": "Hyatt Place Vacaville", "aggregateRating": { "@type": "AggregateRating", "ratingValue": "[4.5]", "bestRating": "[5]", "ratingCount": "[214]" } }
Suggestions: