Lazy H Ranch, is a wonderful hotel located in Pauma Valley, California, USA. Lazy H Ranch is one of our recommended establishments in Hosteliest.com in Pauma Valley, California, USA .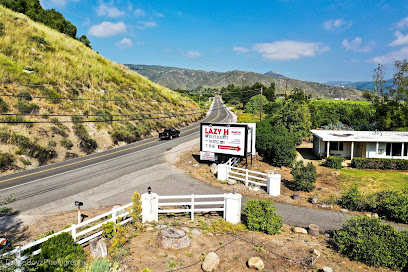 Lazy H Ranch, Pauma Valley, California, USA
Location: How to get to Lazy H Ranch?
Information and details about Lazy H Ranch in Pauma Valley, California, USA
Set on 6 landscaped acres of a former 1920s ranch, this tranquil, family-run hotel is 2 miles from Pauma Valley Country Club, 11 miles from Pala Casino and 17 miles from Palomar Observatory., , The warmly decorated rooms feature free Wi-Fi and TVs: some have furnished terraces. Detached cottages have minifridges, flat-screen TVs and living rooms., , Amenities include a casual cocktail lounge and an unfussy restaurant serving steak, seafood and a kids' menu. There's also a banquet hall, an outdoor pool and a patio. – – is part of our Hotels in California directory.
Rating: according to users 4.4 out of 5.
Lazy H Ranch has a total of 272 Reviews.
Address: 16787 CA-76, Pauma Valley, CA 92061, United States
City: Pauma Valley, California, USA
Country: US
Email address: [email protected]
Phone: +1 760-742-3669
Website: lazyhranchresort.com
Reviews and Ratings about Lazy H Ranch
This hotel has no reviews.
Opening hours
This hotel has not indicated its opening hours.
Related hotels:
{ "@context": "https://schema.org", "@type": "Hotel", "name": "Lazy H Ranch", "image": "https://lh5.googleusercontent.com/p/AF1QipObAqYZqKsIKOMDzcaIpOygeMnI1a9Osp3i19QH=w408-h272-k-no", "@id": "", "url": "https://hosteliest.com/lazy-h-ranch-california/", "telephone": "+1 760-742-3669", "address": { "@type": "PostalAddress", "streetAddress": "16787 CA-76, Pauma Valley, CA 92061, United States", "addressLocality": "Lazy H Ranch;lazy-h-ranch-california;Hotels in California;jgw-rv-park-california;days-inn-suites-by-wyndham-south-gate-california;dons-turf-motel-los-alamitos-california;the-historic-west-walker-motel-california;zinscape-california;Hotel;4.4;272;This hotel has no reviews.;This hotel has not indicated its opening hours.;Set on 6 landscaped acres of a former 1920s ranch, this tranquil, family-run hotel is 2 miles from Pauma Valley Country Club, 11 miles from Pala Casino and 17 miles from Palomar Observatory., , The warmly decorated rooms feature free Wi-Fi and TVs: some have furnished terraces. Detached cottages have minifridges, flat-screen TVs and living rooms., , Amenities include a casual cocktail lounge and an unfussy restaurant serving steak, seafood and a kids' menu. There's also a banquet hall, an outdoor pool and a patio.;16787 CA-76, Pauma Valley, CA 92061, United States;Pauma Valley, California, USA;lazyhranchresort.com;+1 760-742-3669;
[email protected]
;;;https://goo.gl/maps/pxDuLmgjXdQDcVvj9;"";https://lh5.googleusercontent.com/p/AF1QipObAqYZqKsIKOMDzcaIpOygeMnI1a9Osp3i19QH=w408-h272-k-no", "postalCode": "", "addressCountry": "US" }, "geo": { "@type": "GeoCoordinates", "latitude": , "longitude": } } { "@context": "https://schema.org/", "@type": "CreativeWorkSeries", "name": "Lazy H Ranch", "aggregateRating": { "@type": "AggregateRating", "ratingValue": "[4.4]", "bestRating": "[5]", "ratingCount": "[272]" } }
Suggestions: