Rodeway Inn Yreka, is a beautiful hotel located in Yreka, California, USA. Rodeway Inn Yreka is one of our recommended establishments in Hosteliest.com in Yreka, California, USA .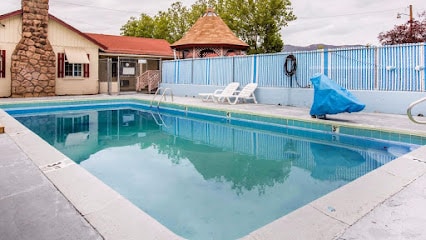 Rodeway Inn Yreka, Yreka, California, USA
Location: How to get to Rodeway Inn Yreka?
Information and details about Rodeway Inn Yreka in Yreka, California, USA
In a low-rise building off I-5, this down-to-earth hotel is 1 mile from trains at Yreka Western Railroad and 5 miles from Shasta Valley Golf Club., , Featuring relaxed decor or exposed brick walls, the old-school rooms for up to 6 guests offer free Wi-Fi, TVs and desks, plus coffeemakers, microwaves and minifridges., , Continental breakfast and outdoor parking are complimentary. Amenities include a modest restaurant, a seasonal outdoor pool and coin-operated laundry, and there's a simple garden area with a gazebo. – – is part of our Hotels in California directory.
Rating: according to users 3.8 out of 5.
Rodeway Inn Yreka has a total of 215 Reviews.
Address: 1235 S Main St, Yreka, CA 96097, United States
City: Yreka, California, USA
Country: US
Email address: –
Phone: +1 530-842-4412
Website: choicehotels.com
Reviews and Ratings about Rodeway Inn Yreka
This hotel has no reviews.
Opening hours
This hotel has not indicated its opening hours.
Related hotels:
Error: El post actual no se encuentra en el array de posts.