Sideways Inn, is a beautiful hotel located in Buellton, California, USA. Sideways Inn is one of our recommended establishments in Hosteliest.com in Buellton, California, USA .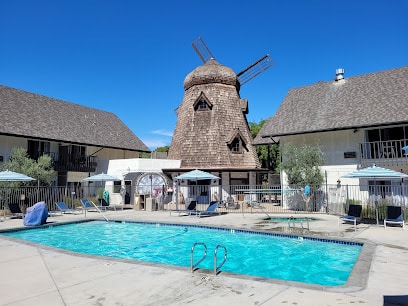 [post_relacionado id="22163″]
Sideways Inn, Buellton, California, USA
Location: How to get to Sideways Inn?
Information and details about Sideways Inn in Buellton, California, USA
Featuring an exposed wood beam facade and a windmill, this charming hotel with a Dutch style is 1 mile from Ostrichland USA and 7.4 miles from Santa Barbara Wine Country., , Simple rooms feature free Wi-Fi and cable TVs. Some rooms also feature minifridges and microwaves. Suites add whirlpool tubs and/or separate sitting areas., , Complimentary amenities include parking and continental breakfast, which is served in a casual dining room. There's also a sports bar, an outdoor pool, a hot tub and a games room. Minimum-stay requirements may apply. – – is part of our Hotels in California directory.
Rating: according to users 4.4 out of 5.
Sideways Inn has a total of 670 Reviews.
Address: 114 E Hwy 246, Buellton, CA 93427, United States
City: Buellton, California, USA
Country: US
Email address: –
Phone: +1 805-688-8448
Website: highwaywestvacations.com
Reviews and Ratings about Sideways Inn
This hotel has no reviews.
Opening hours
This hotel has not indicated its opening hours.
Related hotels:
Error: El post actual no se encuentra en el array de posts.