Vineyard Valley Inn, is a wonderful hotel located in Cloverdale, California, USA. Vineyard Valley Inn is one of our recommended establishments in Hosteliest.com in Cloverdale, California, USA .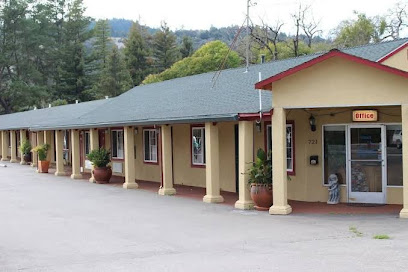 Vineyard Valley Inn, Cloverdale, California, USA
Location: How to get to Vineyard Valley Inn?
Information and details about Vineyard Valley Inn in Cloverdale, California, USA
Set in a low-rise building 1 mile from Route 101, this straightforward hotel is 2 miles from Cloverdale River Park, and 5 miles from the Pendleton Estate Vineyards and Winery., , Accessed by exterior corridors, the relaxed, warmly decorated rooms come with flat-screen TVs, microwaves and minifridges, as well as tea and coffeemaking facilities. Wi-Fi is also available., , Pets are welcome: fees may apply. – – is part of our Hotels in California directory.
Rating: according to users 3.9 out of 5.
Vineyard Valley Inn has a total of 79 Reviews.
Address: 721 N Cloverdale Blvd, Cloverdale, CA 95425, United States
City: Cloverdale, California, USA
Country: US
Email address: –
Phone: +1 707-894-9119
Website: cloverdalevalleyinn.com
Reviews and Ratings about Vineyard Valley Inn
This hotel has no reviews.
Opening hours
This hotel has not indicated its opening hours.
Related hotels:
Error: El post actual no se encuentra en el array de posts.