American Inn, is a wonderful hotel located in Rehoboth Beach, Delaware, USA. American Inn is one of our recommended establishments in Hosteliest.com in Rehoboth Beach, Delaware, USA .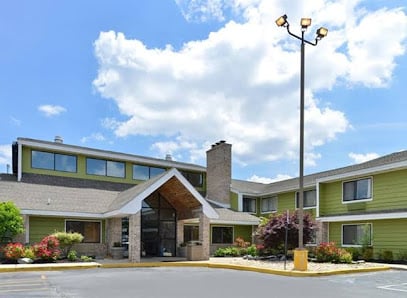 American Inn, Rehoboth Beach, Delaware, USA
Location: How to get to American Inn?
Information and details about American Inn in Rehoboth Beach, Delaware, USA
Within 1.3 miles of Jungle Jim's amusement park, this straightforward 2-story property is also 2.8 miles from the Rehoboth Beach Boardwalk., The simply furnished, soundproof rooms and suites come with free Wi-Fi, flat-screen TVs and microwaves. All also include minifridges and coffeemakers. Upgraded rooms add whirlpool tubs and/or fireplaces. Suites have separate living areas. Kids 16 and under stay free., Amenities include free breakfast and a business center. There's also a heated indoor pool and a hot tub, as well as laundry facilities. Pets are welcome (fee). – – is part of our Hotels in Delaware directory.
Rating: according to users 3.5 out of 5.
American Inn has a total of 510 Reviews.
Address: 36012 Airport Rd, Rehoboth Beach, DE 19971, United States
City: Rehoboth Beach, Delaware, USA
Country: US
Email address: [email protected]
Phone: +1 302-226-0700
Website: americaninnde.com
Reviews and Ratings about American Inn
This hotel has no reviews.
Opening hours
This hotel has not indicated its opening hours.
Related hotels:
[email protected]
;38.7209939;-75.12252219999999;https://goo.gl/maps/LPtgfppGdLySZpRq6;"";http://lh4.googleusercontent.com/proxy/oW3BDm3MTcoleas0ZwZ5wpTWvQ_IQjh-xjGsDconSVX4bBtJ1LYYTCQkQXSMe-L220Jcx3jP0KbhpeC43zDqrdW7okmaiNcqZDbaZ8XgYz5l88qNfO7dn0LYyGK1vwYHMngMgWZeBpzBsvXh6FrVyQEYMxWpBDc=w408-h298-k-no", "postalCode": "", "addressCountry": "US" }, "geo": { "@type": "GeoCoordinates", "latitude": 38.7209939, "longitude": -75.12252219999999 } } { "@context": "https://schema.org/", "@type": "CreativeWorkSeries", "name": "American Inn", "aggregateRating": { "@type": "AggregateRating", "ratingValue": "[3.5]", "bestRating": "[5]", "ratingCount": "[510]" } }
Suggestions: