Hospitality Inn, is a beautiful hotel located in Selma, Alabama, USA. Hospitality Inn is one of our recommended establishments in Hosteliest.com in Selma, Alabama, USA .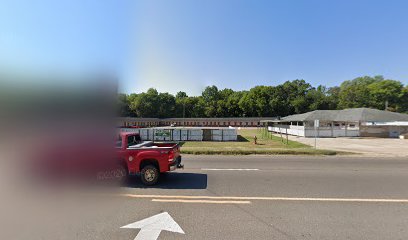 ¡Book now!
Hospitality Inn, Selma, Alabama, USA
Location: How to get to Hospitality Inn?
Information and details about Hospitality Inn in Selma, Alabama, USA
Hospitality Inn – – Be part of our directory of Hotels in Alabama.
Rating: according to users 2.6 out of 5.
Hospitality Inn has a total of 29 Reviews.
Address: 1200 Highland Ave, Selma, AL 36701, United States
City: Selma, Alabama, USA
Country: US
Email address: –
Phone: +1 334-874-6681
Website: hosteliest.com
Reviews and Ratings about Hospitality Inn
[su_quote]Questland Q Rating: 4/5
One night i was so tired and stopped at this Motel about 2am in the morning. I could tell that we awoken the caretaker, but he was wonderful. I found out that he was the owner and he offered to meet us at our room door. I had 2 sleeping kids with me and was concerned about the time of morning. The owner Mike helped me and the kids get into the room and his wife Linda offered to bring me a cup of her India tea. These two made me feel very comfortable. We stayed near their family part in room 214. The next morning when i was checking out, i thanked them for being so thankful. Mike even told me a way to get to my destination faster, using a different route. The room was very clean for a motel and it smelled fresh. So if it$0027s late at night and you are driving through Selma, AL you should stop, because this property is right in location, price, comfort and courtesy.[/su_quote]
[su_quote]Tymantha Underwood Rating: 1/5
I$0027m unhappy.. I checked in ten minutes before 8 which is three hour before1100. And paid full price just to leave or pay extra.[/su_quote]
[su_quote]Kayla Rating: 5/5
My family and I had an amazing stay here. The hotel and our rooms were clean and nice. They changed our sheets upon request. Their service was great. They have good prices. I recommend staying here![/su_quote]

¡Book now!
Opening hours
This hotel has not indicated its opening hours
Related hotels: