Turning pretty ladies into successful models is a challenge that only those who know the world of modeling and entertainment can take on. Therefore, if you are looking for a modeling school for girls in Miami, you should only choose the best. Many representation agencies offer this service through third parties, but this ends up being very unreliable and unsafe for our girls.
That is why we have chosen one of the best modeling schools for girls in Miami to make this article. Since it is an academy that not only has the seriousness and professionalism that is required, but also allows parents to integrate into each of the processes that their daughters carry out throughout their training at the school.
Alicia Faccio Modeling: Modeling School for Girls in Miami
Alicia Faccio Modeling is a school with more than 25 years in the market training young ladies in the art of oratory, manners, modeling, attitude and catwalk. Its creator is a specialist in Communications, a professional catwalk, fashion and advertising model. She has participated in various recognized programs as a panelist and commentator on topics such as etiquette, fashion, makeovers, beauty and refinement.
At the same time, she has stood out as a trainer for beauty pageants in the US and as a producer of fashion events in both Miami and New York. Currently, in her academy, she has programs for girls, young people and adults who want to venture into the different areas of the modeling world, offering them the best training.
What are the programs of this modeling school in Miami?
Alicia Faccio School has two comprehensive programs available to its students. One is group, in which groups of different ages are worked on, and the other is individualized, covering exclusively the areas that the student wishes to reinforce. In this sense, the school provides training on:
Modeling
In which you learn the different ways and styles to walk, depending on the situation, the event and the place. As well as, based on age and personality. This is a program that takes you from scratch to walk like a professional model highlighting the confidence, poise, style and elegance of each girl.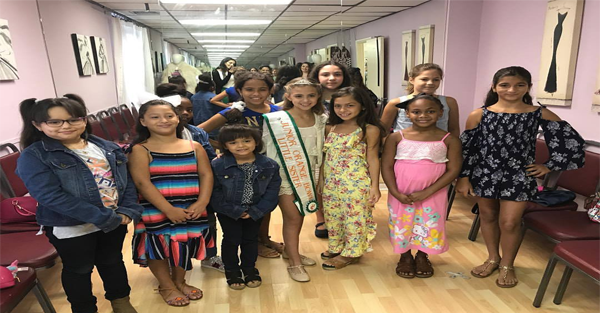 Etiquette or refinement
It focuses on teaching social skills to function in public places, or events depending on the occasion. You will also learn table manners to present yourself properly both at home and in public. Finally, protocol classes appropriate to their age and the situations that will arise in the near future are included.
Style
In this course you will learn notions of clothing, styles and trends. With these classes the participants will learn to dress appropriately according to the place and the occasion. This will include the rules of elegance and good dress.
Position
It is a training that will teach students to maintain a good posture at all times and reduce fatigue both in events and in their day to day.
Make-up
For all professional models, make-up is essential, which is why the program includes a self-make-up course adapted to the age of the student that will allow her to remain presentable in all situations.
Oral expression and body language
You will train participants to communicate properly both verbally and physically. Public speaking classes are included to improve fluency when speaking in public and also body control classes to learn to better communicate with the body.
Photography
Finally, students will learn photo posing, body expression, transmitting through expressions, and creating impactful images.
To learn more about this modeling school in Miami, check out their website https://aliciafacciomodeling.com and find out how to sign up.