If you are passionate about the art of baking cakes and making beautiful decorations on your desserts, you are surely interested in turning this passion into your main source of income. To do this, a Pastry School in Miami can provide you with the necessary technical knowledge to start this path professionally. Here are the best options if you are in this city.
Best Pastry School in Miami Florida
Valencia College
It offers the degree in Bakery and Confectionery Management Sciences which lasts two years. In this course, the student prepares to pursue a career in the culinary arts by learning to make desserts recognized as true masterpieces.
The program takes place in state-of-the-art facilities with hands-on experience in the art of confectionery, and is led by instructors recognized as the best chefs in the world. Among them, instructor chefs from Walt Disney World and Universal Orlando. To find out more about this program, go to Web page.
Mariano Moreno Culinary Institute
This pastry school in Miami offers a complete 12-month full-time pastry and bakery course, with the possibility of taking it at three different times, depending on the student's needs.
The course includes basic techniques of traditional pastry and bakery as well as a review of international and local recipes. It also includes a business module so that the participant acquires all the necessary knowledge to be successful in the area. You can learn more about this course by clicking on the following link https://www.mmci-usa.com/.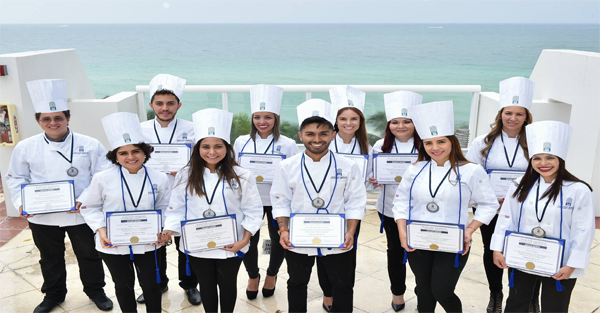 Cake Art School
It is a school specialized in the art of creative confectionery. Here you can find various programs to perfect pastry, baking and decoration techniques. That is the strong point of this pastry school in Miami, while other schools offer all-in-one programs, at Cake Art School you can take private classes in the techniques that you are most interested in learning.
Most of the programs are short and intensive, in a couple of days you learn what is necessary about the technique taught. They are usually done 5-6 hours per day, they provide you with support material and practice in class each lesson while the instructors correct you. If you would like to live this experience, check their academic offer at https://cakeart.wpengine.com/servsafe-course-miami/.
Florida Education Institute
In this institution you can pursue a career in culinary arts, within this program a whole module of bakery and confectionery is included. For which you would not only certify yourself as a pastry chef but in the background you will learn everything about the art of cooking.
Also this program is interesting as it teaches students about nutrition, code of ethics, health standards, culinary business and international cuisine. Which is a perfect base to start in this field.
If you are interested in this pastry school in Miami visit their website https://www.fei.edu/culinary-arts-at-fei/ so that you know all the available program.