South Florida Autism Charter School, is a free and open school for autistic children in Miami for all boys and girls within the autistic spectrum who reside in the Miami Dade and Broward areas. This institution provides students with the necessary therapeutic support to work on communication deficiencies and behavior problems and that they can be integrated into a regular school circuit.
The age to enter this school for autistic children in Miami is from 3 years to 12 years. Period in which they receive the necessary training to achieve autonomy, social integration and competent academic level. Find out about the requirements to belong to this school and the education methodology used.
Requirements to enroll in the school for autistic children in Miami
Entering a school for autistic children is a process like any other, although it has some special considerations since the needs of each child within the spectrum are different. In this sense, to opt for a place in the school from Pre-k to 12th grade, it is necessary to make an application that you can complete online on the web. http://www.sfacs.org/school-information/enrollment/ during the pre-registration period, it usually opens in February of each school year.[post_relacionado id="41384″]
The selection process for kindergarten will be through a lottery that takes place in April of each school term, once the application process has finished.
A copy of the child's Individualized Educational Plan (IEP) must be attached to the request, as well as all the documents required in the format.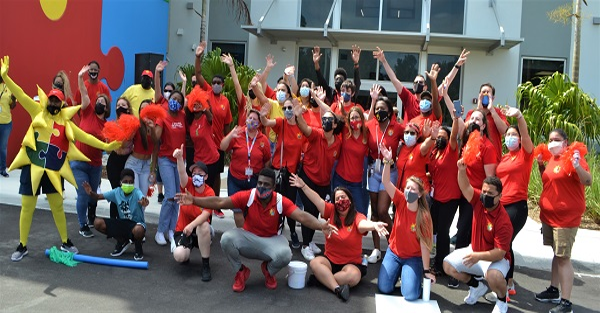 School Eligibility for Autistic Children South Florida Autism Charter School
When applying for a child or adolescent to attend the school, it is important to take into account the eligibility requirements. In the case of South Florida Autism Charter School, the institution extends the essential requirements to accept new admissions, here we mention some:
Students must have a diagnosis of a typified disorder within the autism spectrum (TEA).
Applicant must have a public school Individualized Education Plan (IEP).
Student must be on a modified curriculum
The student is required to have some of these characteristics: behavior problems, communication deficits, requires training in personal care skills.
Benefits of Studying at South Florida Autism Charter School
This school for autistic children in Miami and Broward offers individualized education for students with any condition typified within the autism spectrum. This fits it into a very closed circle of institutions that offer this type of education, but in addition to that, as an organization it has a series of benefits for its community that make it unique in its locality.
It is associated with the Miami Dade school circuit, which is why it is free.
It has its own foundation that collects resources to cover individualized therapy programs and the expenses of private teachers.
It has a school for parents and is in constant training.
To learn more about the school for autistic children in Miami, go to its website and book a guided tour of the school.